DURBAN CHESS CLUB
NEWS ARCHIVE
News and Results from 2011


Annual General Meeting 24th November 2011

The club's annual general meeting took place at St Cyprians church on Thursday 24th November and was followed by a braai. Here is the list of prize winners.

At the AGM Desmond Rooplal was elected as the Chairman/President, Keith Rust as the Captain of Play, Jonathan Bentham as the Secretary, and Bongani Mgaga as the Treasurer. Other committee members elected were Peter Dankelman, Paul Curry, Bruce Medway, Hemant Nowbath, Jason Subke and Denver White. Peter Dankelmann was thanked for his long service to the club in the position of Chairman. Here is a table of club presidents from 1952 onwards.


3rd "JZ Championship" 20th December 2011

Several of our members made the trip to Nkandla on the 20th December for the annual presidential chess tournament. Perhaps it was fitting that our club president, Desmond Rooplal, tied first on a score of 5/5 and was awarded the trophy on tie-break.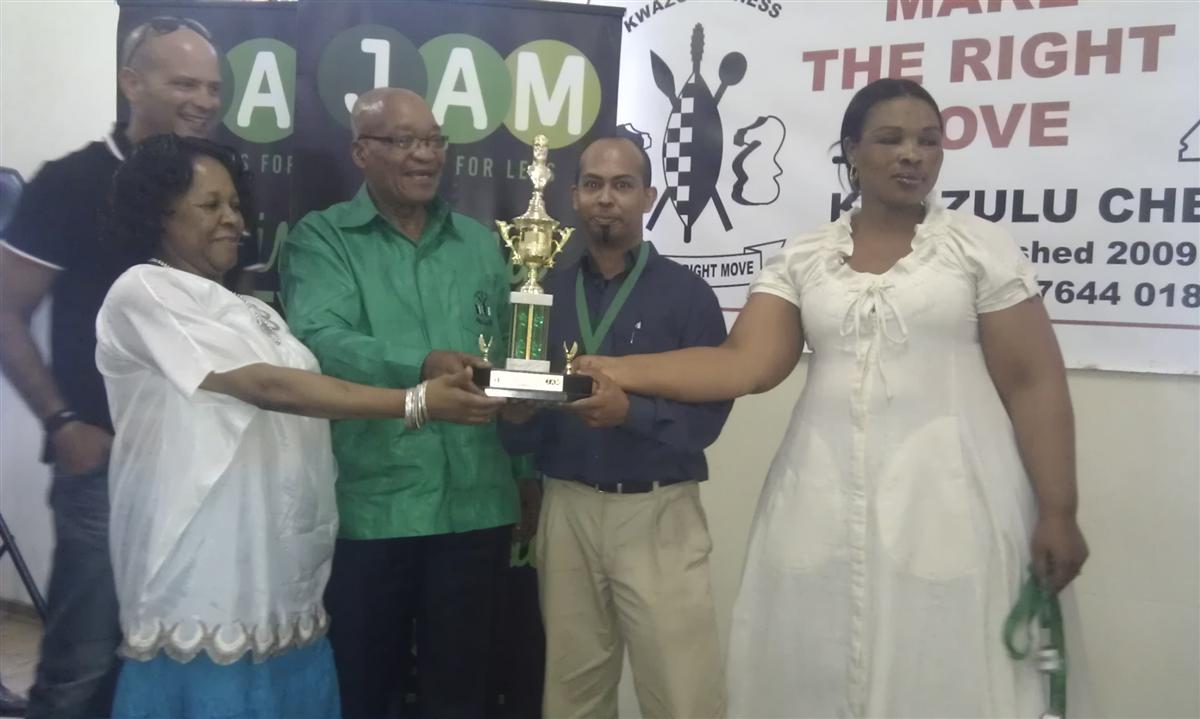 Desmond receives the trophy from President Jacob Zuma
Junior Internationals November/December 2011

Results are now in from international junior events held in Brazil and in Zambia. Kriti Lalla scored 5/9 at the World Youth (under 10 girls) held in Brazil, finishing in 23rd place. She then finished 1st with 8½/9 at the African Youth (under 10 girls) held in Lusaka. Seshni Govindasamy took part in the under 18 girls events, scoring 2½/9 in Brazil (66th) and then tied for 2nd place with 6½/9 in Lusaka. Congratulations to Kriti and to Seshni on their achievements!


Third Swiss Tournament 2011

The Third Swiss tournament, which started on 29th September, is now complete. Congratulations to Bongani Mgaga who finished 1st with 5 points out of 6. Here are the final results.


Victor Daitz Foundation Spring Championship 2011

Club members Bongani Mgaga, Desmond Rooplal, Lulama Qobo and Mbongeni Sithole are actively involved in the Durban Metro Chess Academy, which hosted the Victor Daitz Foundation Spring Chess Championship on Saturday 24th September in KwaMashu, at Thandukwazi Primary. The tournament saw 84 children from the 6 schools that DMCA teaches chess, battle for the championship trophy.

The KZNCU website has a selection of photos from this event. For more information you can contact Bongani on 076-1980213 or have a look at Bongani's page.


Mhlongo Memorial Blitz 2011

The club's annual blitz championships was held on 22nd September 2011. The field was divided into two round-robin sections of 10 players each, with the top 2 in each section competing in a semi-final knockout. My 2 game semi-final against Erick Takawira turned into a marathon 5 games, as I won, then lost, drew, drew and won for a 3-2 score. Meanwhile Cyril Danisa won 2-0 in the other semi against Jonathan Bentham. After which Cyril beat me 2-0 in the final, and Erick won the 3rd place playoff.


Second Swiss Tournament 2011

The Second Swiss tournament has been won by Nashlen Govindasamy with 6½ out of 7, a full point ahead of Keith Rust and Lulama Qobo in 2nd place. Nashlen was a bit lucky to beat Lulama in the 6th round, but was otherwise untroubled. Here are the final results.


Inter-Union Team Tournament 2011

Many of our club members were selected for the KZN teams that competed in the Inter Union Team championships, held in Durban from 6th to 8th August 2011. The KZN Chess Union fielded one team in the A section and four teams in the B section. Our A team finished in 4th place in the A section, the same as last year. However, our B and C teams tied for 1st place in the B section, with the B team securing the title on tie-break. Last year's champions, Western Province, gave the other teams a head start, after they arrived late and defaulted their first round games. They still almost won the A section - what a team!

DOWNLOAD: all 224 games played in section A of the Inter-Union.

I have uploaded the results from the weekend onto the International Chess-Results server, where you can get a variety of reports on the teams, the players, results by board etc. Here are links for section A or for section B.


Fischer Random Tournament 2011

Our annual Fischer Random tournament was won by Keith Rust with Jason Subke just ½ a point behind. The event was strictly for fun, play started with a random position which was then tried out as White and as Black.


Club Championships March to June 2011

In round 9 Jason Subke drew with top seed Erick Takawira, thus achieving his best ever score in the Championships of 7/9. He was joined by Keith Rust on 7/9 after a hard fought draw vs Takawira in their postponed game. Which left both Takawira and defending champion Nashlen Govindasamy on 6/8, with their postponed game to decide. How Nashlen must have regretted his loss to Desmond Rooplal in round 8. In an exciting Najdorf Sicilian, Erick won against Nashlen with a temporary Bishop sacrifice, so we had a three-way tie for 1st place! Here are final results of section A.

Mbongeni Sithole won section B with 6½/9 with a draw in his last game against Sivuyile Mgobhozi. This section was extremely close throughout, with very little separating 2nd to 9th places. In the end, Jonathan Kupis finished in 2nd place. Here are final results of section B.

Jonathan Bentham won section C with a full house 9/9. In 2nd place with 5½ points were Denver White and Seshni Govindasamy. Here are final results of section C.

Section D was wide open with one round left to play. In the last round we had 2 decisive games, so in the end it was Syabonga Mkize who won with 7/9, closely followed by Mbusiswa Zuma on 6½ points, with early leader Dave Perumal and Menzi Mbona sharing 3rd place on 6/9. Here are final results of section D.


UNITE Kwa-Zulu Natal Open April 2011

The annual UNITE KZN open tournament took place from 30th April to 2nd May 2011, with eight rounds of chess over 3 days and the biggest prize fund in KZN! Congratulations to IM Johannes Mabusela and Erick Takawira, who shared 1st place with 7 out of 8. Here are the detailed results.

Adhir Lalla took quite a lot of photos at the tournament, which were published on the KZN Chess Union website (now defunct).


Bongani's Page and Durban Metro Chess Academy

This page has recently been updated to include Bongani's report on DMCA activities during 2010 and also includes an older report on the INK project. The INK project involves schools in the Inanda, Ntuzuma and Kwa Mashu (INK) areas who have been provided by DMCA with a Basic Chess Course. Well done to Bongani for organising this project! Sponsorship would be most welcome, and you can contact Bongani on 076-1980213 for more information.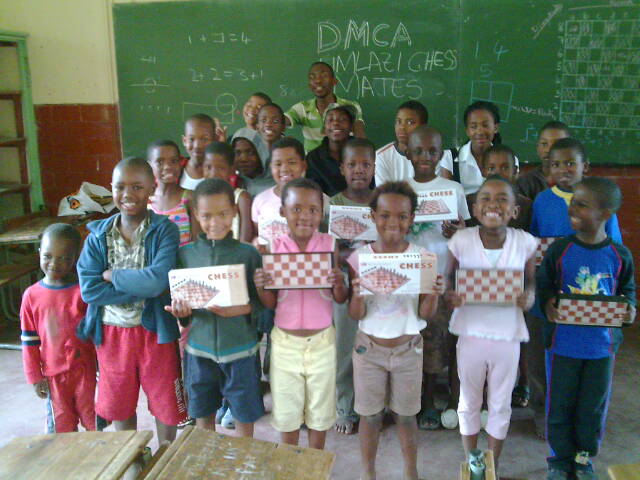 Delighted children with their new chess sets
Kriti Lalla - SA Champion (under 10 girls)

Our youngest club member, Kriti Lalla, recently took part in the SA Junior Closed held in early April in Johannesburg, finishing 1st with 8 points out of 9 (8 wins, 1 loss) to confirm her status as the top under 10 girl in South Africa. The report on the KZN Chess Union website has now gone, but here is more about Kriti. This win secured Kriti's place in the South African team for the World Youth championships, to be held in Caldas Novas (Brazil) in November this year.


Ethekwini Open March 2011

A three day tournament was held at Northlands from 19th to 21st March 2011. It was won jointly by Erick Takawira, Sayen Naidu and Desmond Rooplal with 5½ points from 7 games. Here are the final results of the A section. There was also a B section, for players rated below 1300, which was won by Shayur Hansraj and Mikhael Nepaul with 6 out of 7 - see final results of the B section. There used to be a selection of photos taken by Adhir Lalla at this event on the KZN Chess Union website.


African Junior Championships 2010-11

The writer was away for 10 days recently, serving as deputy arbiter at the African Junior championships held in East London from 26th February to 7th March 2011. This was a most interesting experience and those who want to know more about the event should have a look at the African juniors website.


Durban CC Open March 2011

A one-day rapid tournament was held at the club on 6th March 2011 and was won by Jason Subke with 6½ points from 7 games. Here are the final results.


Moss Kolnik Memorial January to March 2011

The club's first event of the year started on 13th January 2011 and has recently been completed. After 7 rounds the number 1 seed Erick Takawira was on 5½ points, just ahead of both Desmond Rooplal and Jason Subke by a mere ½ point, with club champion Nashlen Govindasamy and Sayen Naidu a further ½ point behind. The last round results were therefore critical, with Erick beating Desmond, Jason drawing with Nashlen and Sayen defeating Mbongeni (who should have beaten Erick in round 1). These are the final results.


Annual JZ Tournament December 2010

The second JZ tournament was held in Nkandla on 22nd December 2010. Sandile Xulu was the chief organiser and the event was attended by President Jacob Zuma and numerous local dignitaries, including International Master Watu Kobese.

Here is a picture showing Sandile playing a friendly game against the tournament winner, Durban CC member Mbongeni Sithole, watched by President Zuma: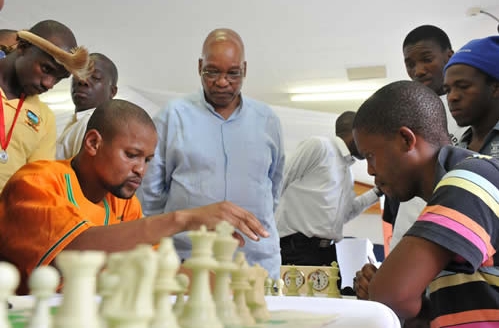 More pictures can be found on the SA government website.
Watu and Sandile are currently working together on the "Moves for Life" program, which is a South African initiative aimed at teaching chess in our schools. The program is being supported by President Zuma and is due to be implemented in KZN during 2011. See the Moves For Life home page for more information.


USSA Championship December 2010

The university sports association held their annual championships in Cape Town during early December. There were 9 rounds played, with 190 players in the open section and 77 players in the womens section. The event was won by rating favourite Calvin Klaasen, with Durban's Sivuyile Mgobhozi the runner up. Sivuyile won a place in the SA Student team for the African championships to be held later in 2011.


---
Home Page | Natal Champions | Durban Champions | News Archive (2004 to 2019)
---