REGINALD WILLIAM BORDERS
(1866 - 1936)


photo about 1910
Reginald Borders was born in the Kensington district of London in December 1866, the oldest son of William Borders, who was a cigar and tobacco merchant. His father had business interests in South Africa and in Mozambique, so Reginald was "shipped off" to South Africa as a young man, and his younger brother Frederick later joined him. Borders arrived in Durban aboard the steamship "Dunbar Castle" in the middle of 1890. The steamships carried mail and passengers on a regular basis from Southampton to Cape Town, along the coast to Durban, and then back again. Borders died in Pietermaritzburg on 5th March 1936.

Borders' entry in "Who's Who in Natal" says that he lived in Overport and was a partner in Wm.Savory & Co., who were clearing, forwarding and shipping agents. His recreations were listed as music, chess and bowls.

Borders paid no serious attention to chess until 1893, when he became a founder member of the Durban Chess Club. Newspaper reports show that in 1899 he was Secretary of the club, with Harry Escombe (who died that year) the President. Borders was a strong player, although Len Reitstein remarked that "he was better with his pen than the pieces".

Borders was good enough to be invited to play in the 3rd South African championships, held in Durban in 1899. Unfortunately he had to withdraw from the event, and only made his debut in the 4th SA championships held in Johannesburg in 1903. He also competed in the 6th SA championships held in Cape Town in 1910 and 7th in Johannesburg in 1912 (see game below).

The early years of the Durban championships were dominated by Lucas Bull, another Londoner, and Borders was not able to win the event until 1909. He won his second title in 1912 (ahead of Dr Mc Cord and Mr Marriott who tied for 2nd place) and his third title in 1913.

Borders was well known throughout the world for his chess column in the "Natal Mercury", published between 1903 and 1930. He was also a notable problem composer, and organised several problem competitions via his newspaper column. Len Reitstein's book "A History of Chess in Southern Africa" speaks highly of his writing, and Borders' column was regularly cited by him as source material for his book. Here is an example of one of his problems, thought to have been composed around 1920: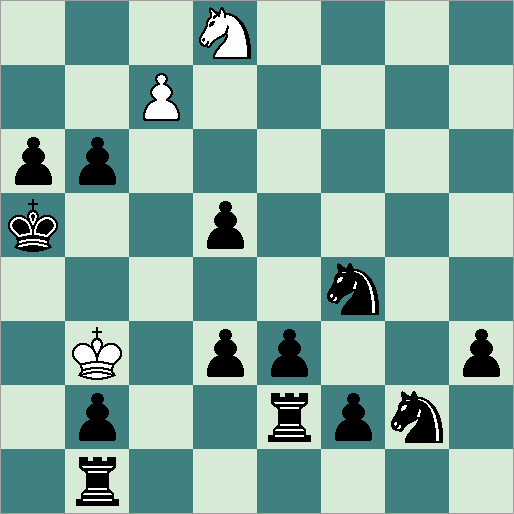 White to play and win


Once you see the idea, it is all forced and quite amusing. Here is the solution.

Games


Here is a casual game from the pages of the "Natal Mercury":


Borders, R W - "The Count"
Durban, 1916 (source: Natal Mercury, 21 Oct 1916)


1.e4 e5 2.Nf3 Nc6 3.Bc4 h6 4.Nc3 Bc5 5.Nd5 Nf6 6.d4 Nxd4 7.Nxe5 Nxe4 8.Qh5 Nd6 9.h4 (Offering a Rook to his greedy opponent, who should have tried 9...c6 making an escape square for his Queen) 9...Nxc2+ 10.Kd1 Nxa1 11.Bg5 g6 12.Nxg6 fxg6 13.Qxg6+ Nf7 14.Nxc7+ 1-0 (as 14...Qxc7 15.Qxf7 is mate)

I found the following game in an Australian newspaper. It was played in Johannesburg in 1912, where Borders scored 4½ from 9 games, his best result in an SA championships. Borders was dead lost after his blunder on move 15, but Siegheim let him off the hook in a fascinating ending of R+N+3P vs R+4P.

---
Home Page | Natal Champions | Durban Champions