DURBAN CHESS FUNDIS

Home page of the
DURBAN CHESS CLUB
(founded in August 1893)
"who teaches learns"
Last updated: 10th July 2019
IMPORTANT NOTICE TO MEMBERS
Please call Desmond on 083-788-8070 (or send him a whatsapp) BEFORE NOON on Thursday if you are unable to play a particular game. It is extremely important that members communicate apologies before noon on Thursdays.
Members are expected to complete the club membership form and pay their subscriptions before the club championships start in March.


RAPID TOURNAMENT JUNE/JULY
The club started a rated rapid tournament on 13th June 2019, which will continue after the school holidays. Here is the tournament register and here are the draft pairings and results.

SIMULTANEOUS EXHIBITION 6th JUNE
Our new club champion took on 7 players simultaneously on 6th June. His result was 7-0 against the best players in sections B and C. Here are a couple of photos, taken by Riccardo: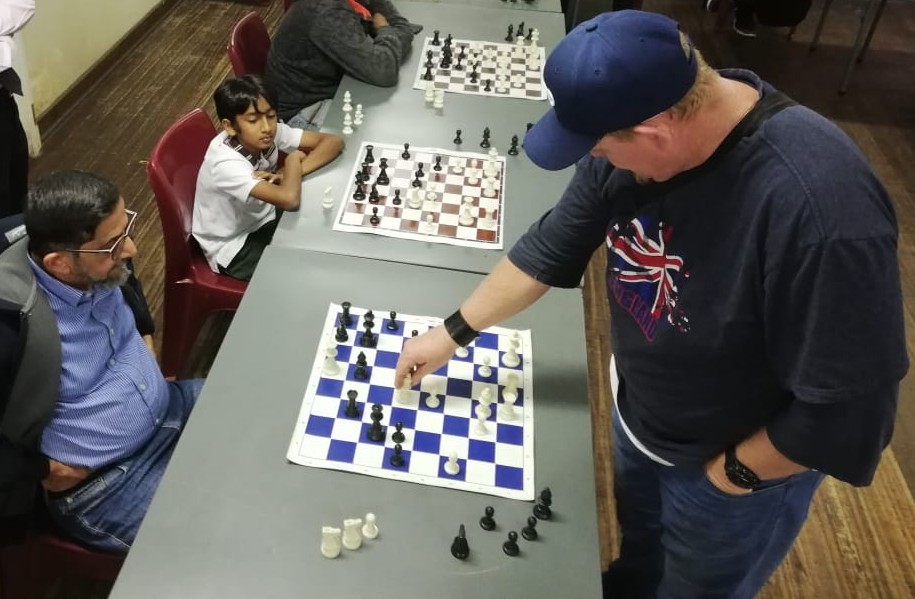 Jason moves vs Solly Kharwa, as Jorah Soojay watches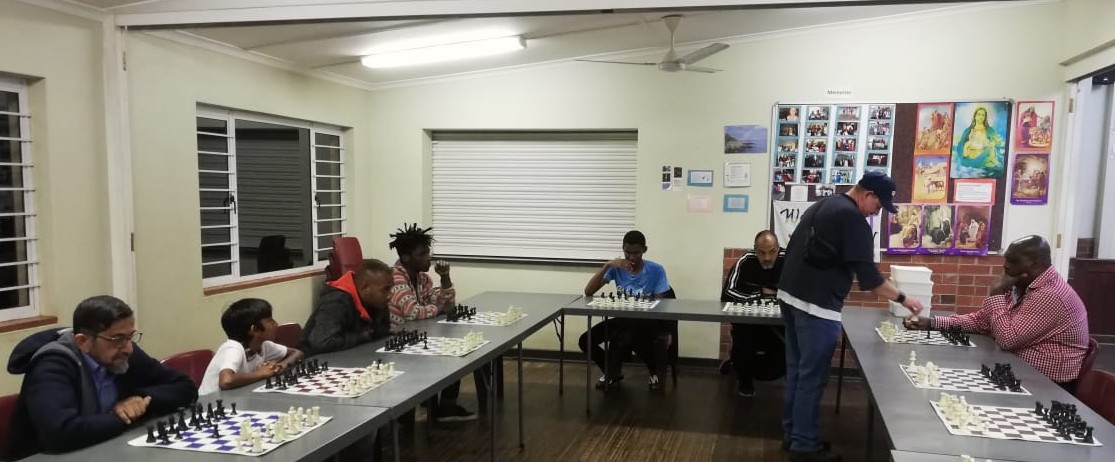 Jason deciding his move against Sipho Mtoboyi

JASON SUBKE IS NEW CLUB CHAMPION
The club started its annual championships on 14th March 2019. The Championship and Candidates sections will be both FIDE and Chessa rated. Both events were 10 player round robins, with the time control of 90 minutes each with a 30 second increment. I have captured the available game scores, which can be downloaded as noted below.

When I last reported, it was impossible to predict a winner in Section A, as so many games had been postponed. Now the dust has settled, we have a new champion, Jason Subke, with Cyril Danisa taking 2nd place. Here are the final results, with 36 games.

YOUNG SOOJAY WINS SECTION B
Section B was won by Durban's top under 12 player, Jorah Soojay, with 8 out of 9. It will be interesting to see how he fares in section A next year. In joint 2nd place were Riccardo Benedetti and Senzo Msimango. Here are the final results, with 39 games.

MTOBOYI CLEAN SWEEPS SECTION C
The C section of the Club Championships was a 9 round Swiss section. It was won by Sipho Mtoboyi with a clean score of 9 out of 9. Second place was taken by Devon Govender. Here are the final results.

NEW SA UNDER 8 CHAMPION
Congratulations to Daaruk Kumarasamy on becoming the South African under 8 champion, with the fine score of 8 out of 9.

Daaruk with his father at the SAJCC (photo from Facebook)

MOSS KOLNIK MEMORIAL JANUARY/FEBRUARY 2019
The club began its first tournament of the year on 10th January 2019. Jason Subke convincingly won the event, followed closely by Desmond Rooplal. Detailed tournament results can be found on chess-results.

NEW ARBITERS
Congratulations go to Riccardo Benedetti and Desmond Rooplal for scoring over 80% on the February 2019 Arbiters exam. They are now qualified as Regional Arbiters. Ryan Kippen also took the exam and passed as Tournament Supervisor.

AN EPIC BATTLE
On the 21st February, I saw the world record for the most moves in a game of chess broken. The top 2 programs, Stockfish and LCZero, just had a 362 move draw in their 86th match game! After 84 games the match was tied at 42 each, the equivalent of 7 human title matches. Those interested in this epic battle can find the games at the TCEC chessdom website.

The main point of interest is that Leela Chess Zero uses search methods that are radically different to the traditional alpha-beta search used by Stockfish 10, the highest rated program. Instead, as explained in this article by Stephan Platz, it is using Monte Carlo techniques, similar to those made famous by the Alpha Zero program. Footnote: Their 100 game match was won by Stockfish 10-9 with 81 draws.

SA JUNIOR CLOSED CHESS CHAMPIONSHIPS 2019
Chess SA has announced that their 2019 Junior Closed will take place at Kopanong in Benoni from 16th to 23rd March 2019. Congratulations to our junior members Daaruk Kumarasamy, Jorah Soojay, Keniesha Govender, Lesharn Govender, Charlotte Millard and Naseem Essa, whose names are on the list of qualifiers published on Thursday 10th January.


---
Recent updates: rapid to start, simultaneous, championship results, Moss Kolnik results, profile Guy Miller, new arbiters, epic TCEC battle, Junior Closed qualifiers, calendar for 2019, stories for 2018 archived.
For previous news stories refer to my News Archive page, which contains links to previous news stories going back to 2004.
---