DURBAN CHESS FUNDIS

Home page of the
DURBAN CHESS CLUB
(founded in August 1893)
"who teaches learns"
Last updated: 19th September 2018
IMPORTANT NOTICE TO MEMBERS
Please call Desmond on 083-788-8070 (or send him a whatsapp) BEFORE NOON on Thursday if you are unable to play a particular game. If he is not available, please email the club.
PAUL CURRY (1960 - 2018)
I am shocked to report that Paul Curry passed away on 17th September 2018. A memorial service for him will be held on the 22nd. More to follow.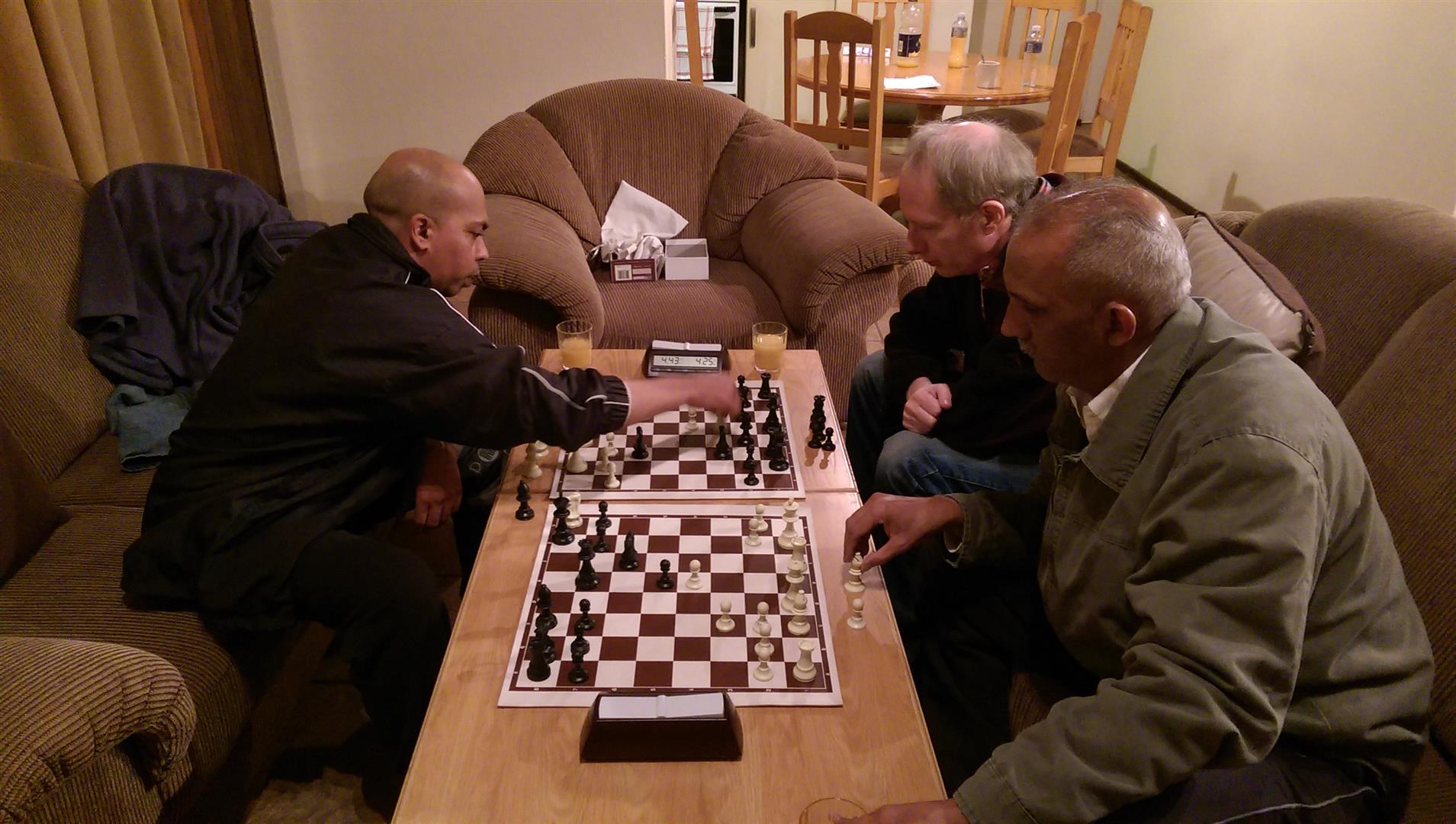 Doubles at Castleburn in 2015, Paul partnered myself vs Desmond
JOHN BLACKBURN MEMORIAL AUGUST 2018
Round 6 of the John Blackburn Memorial swiss takes place on 20th September. Draft pairings will be published on chess-results on Wednesday night, and will become final pairings at 2 pm Thursday. See here for pairings and results. Desmond has also developed a Google form which is updated as players inform him they are out for a particular round, this register shows who is in or out .

CLUB CELEBRATES 125 YEARS!!
We celebrated our 125th birthday on 16th August 2018 with a selection of delicious cup cakes, and a lucky draw puzzle competition. For those who like solving puzzles, here is the page of (mate in 2) puzzles.

BOOK FAIR AUGUST 2018
Thanks to our members, Hemant and Solly, who promoted chess at the recent Book Fair: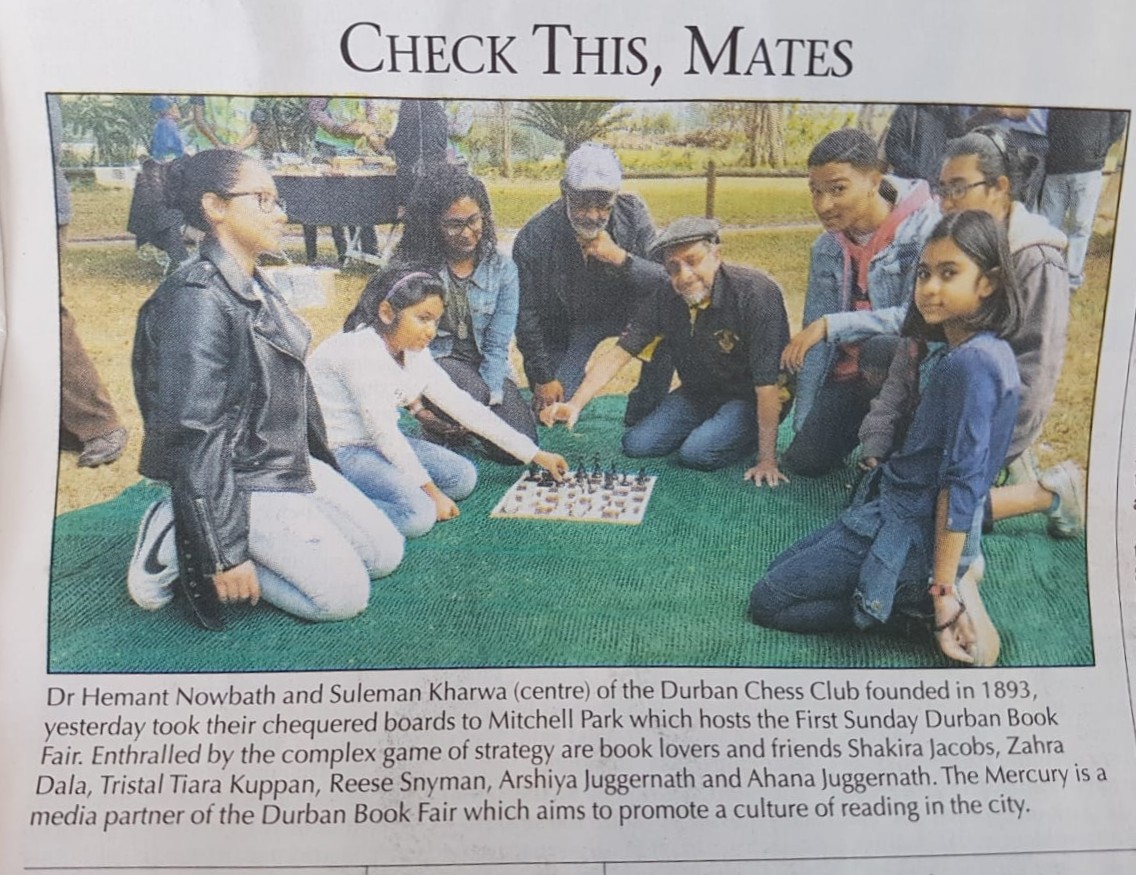 RAPID TOURNAMENT JUNE/JULY 2018
The club completed a rated rapid tournament over 4 weeks in June/July, with 2 rapid games played per week. I took a break to have a hernia repair operation, so Nadean was chief arbiter in my absence. New member Ntando Zwakala won all his games, with Jerry Zuma taking 2nd place. Here are the detailed results.

SIMULTANEOUS EXHIBITION JUNE 2018
On 7th June Keith Rust gave the traditional simultaneous exhibition by the new club champion. Seven club members accepted the challenge, which ended in 5 wins for the champ, a draw against Duncan Podmore and a win by John Khan. John was also successful in last year's exhibition against Desmond!

CLUB CHAMPIONSHIPS MARCH to MAY 2018
The club's annual championships started on 15th March and were completed on 30th May 2018. There were 3 round-robin sections and a Swiss section this year. Keith Rust is club champion for a record 25th time, and these are the detailed results of section A.

The B section was marred by the withdrawal of 3 players. The remaining 7 players had a great contest. In the last game to finish Cedric Nzama faced Leon Scharnick with the White pieces. Cedric reached the ending of Knight and 3 pawns versus Bishop and 1 pawn, but somehow Leon escaped with a miracle draw, as his Bishop stopped all of Cedric's pawns! So honours were shared between them, and here are the detailed results of section B.

The winner of section C is John Khan, with 3 players tied for 2nd place just ½ point behind him. At one point, it was possible for 5 people to win this section, but a strong finish by Charlotte Millard saw her secure 2nd place on tiebreak. Michael Zulu won section D with a full house, 9 out of 9.

SA JUNIOR CLOSED APRIL 2018
The SA Junior Closed Chess Championships of 2018 were held recently in Benoni. Each age group section was an 11 round Swiss, with only the top juniors in SA competing. We congratulate the following members for being selected to play in this event - Chad Millard (u16), Charlotte Millard (u12), Thacian Reddy (u12), Lesharn Govender (u12), Keniesha Govender (u12), Kaedan Govender (u10) and Jorah Soojay (u10). Special kudos go to Kaedan Govender for his 1st place in the under 10 open section.
PS. Kaedan has now appeared on SABC news!

CLUB MEMBERSHIP 2018
Members are asked to complete the club membership form for 2018 and pay any subscriptions before entering the championships.

MHLONGO MEMORIAL BLITZ MARCH 2018
The traditional blitz tournament was won by Henry Oliver with 5/5. Here are the blitz results and I'm told that Cedric Nzama won the playoff for 2nd place.

MOSS KOLNIK MEMORIAL JANUARY to MARCH 2018
The club's first tournament of the 2018 year was won by Bongani Mgaga after he defeated co-leader Chad Millard in the last round. Here are the final results.

SA JUNIOR TEAM CHAMPIONSHIPS JANUARY 2018
A number of our junior members took part in the annual SA junior team championships, which were held from 3rd to 8th January 2018 at the Birchwood Conference Centre in Boksburg. Here is a photo of the Ethekwini under 12A team, which won the bronze medals: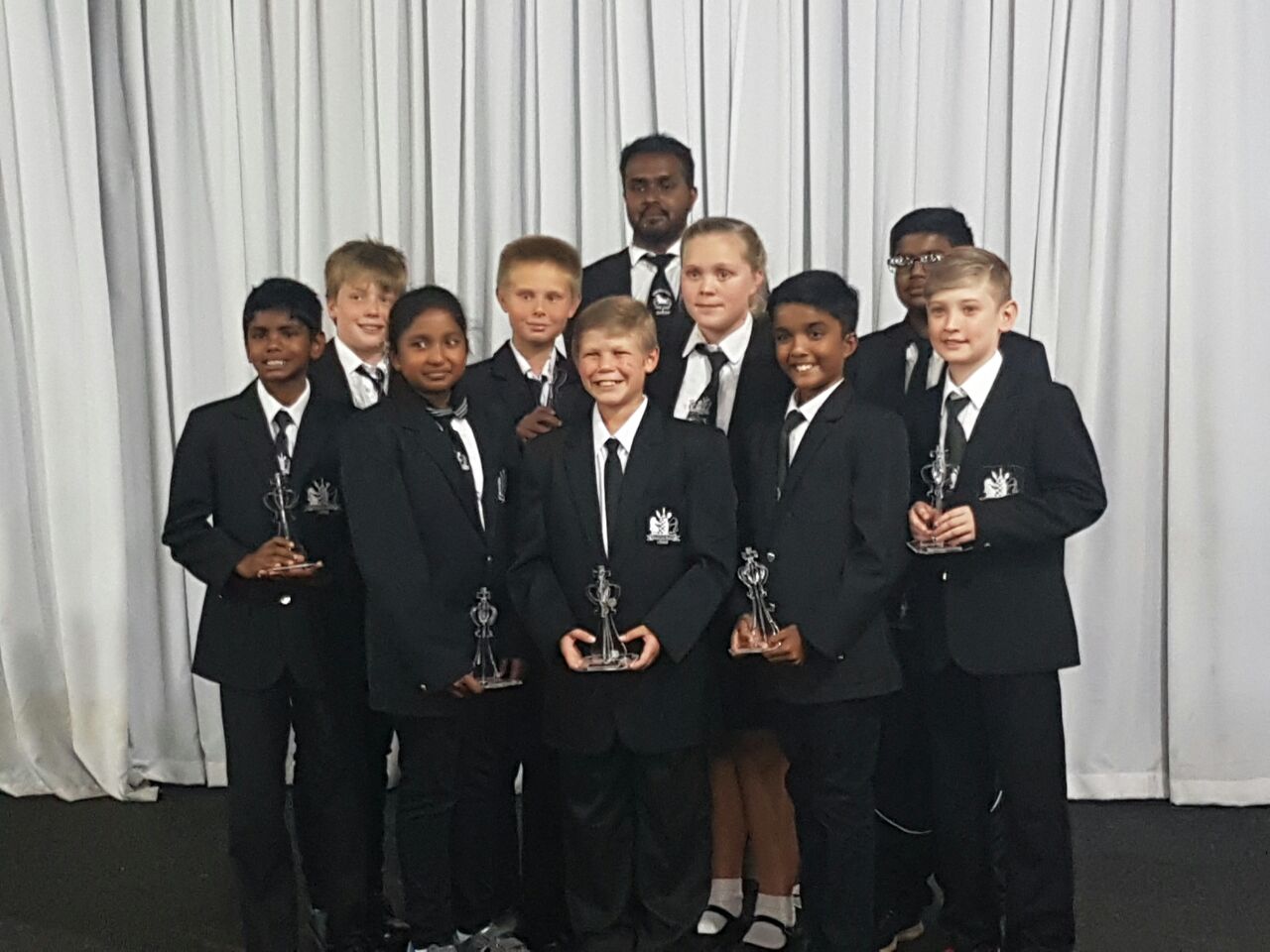 Thacian, Keniesha, Charlotte and Lesharn were in the u12 team

GM Hikaru Nakamura from the USA, one of the top 10 players in the world, was a special visitor to the junior championships. Here he is with Jorah Soojay, who played for the Ethekwini under 10A team and won a gold medal for his score of 6/7 on board 3: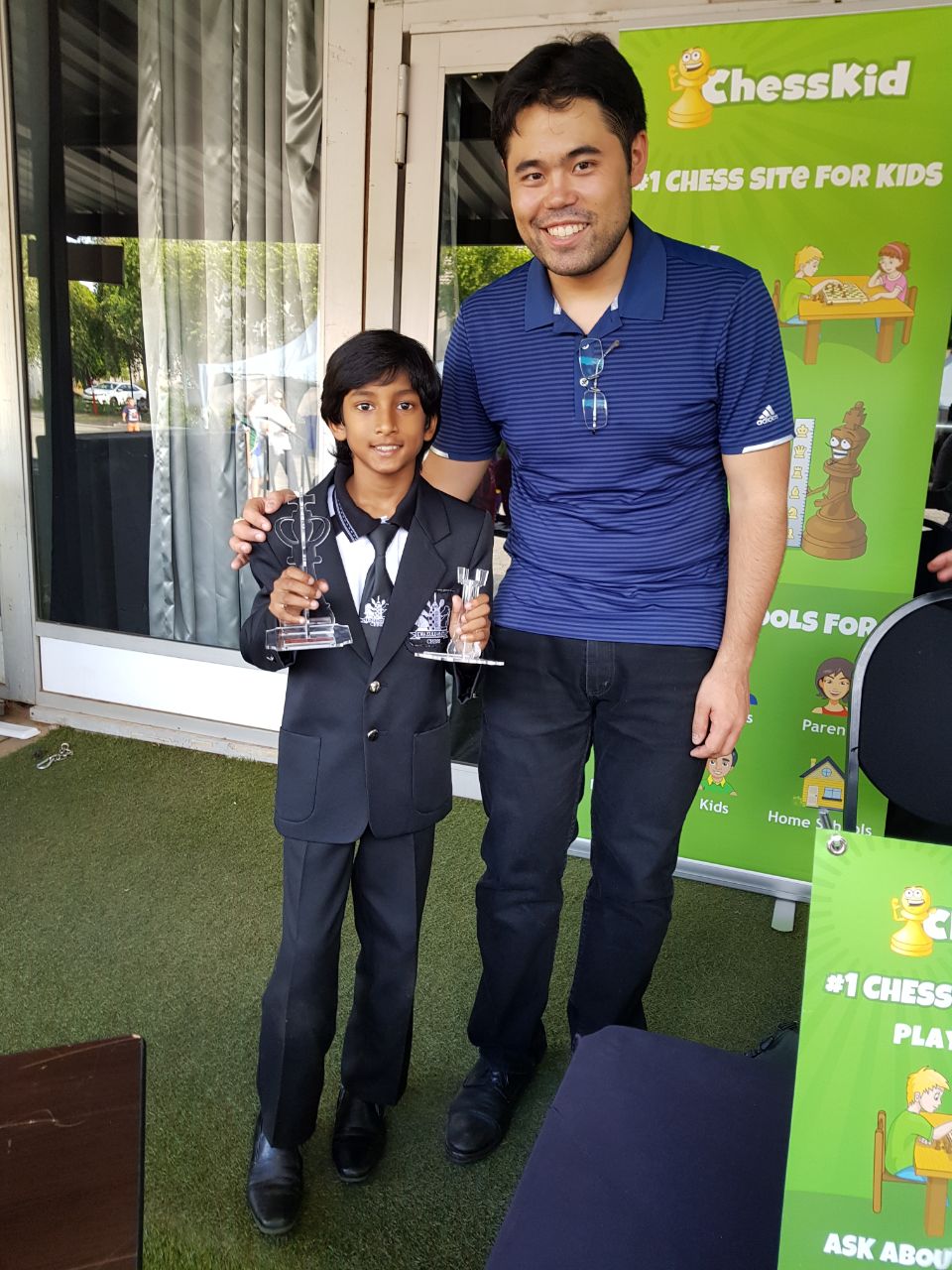 Jorah Soojay with GM Nakamura

Here is a link to a superb report about Nakamura's visit, which was published on the chess.com website.

Recent updates: Blackburn Swiss starts, rapid tournament finishes, club Championship results, Junior Closed accolades, Mhlongo blitz results, Moss Kolnik results, SA Junior team event, Nakamura visit to SA, calendar for 2018, stories for 2017 archived.
For previous news stories refer to my News Archive page, which contains links to previous news stories going back to 2004.

---