GUY STANLEY MILLER
(1928 - 2000)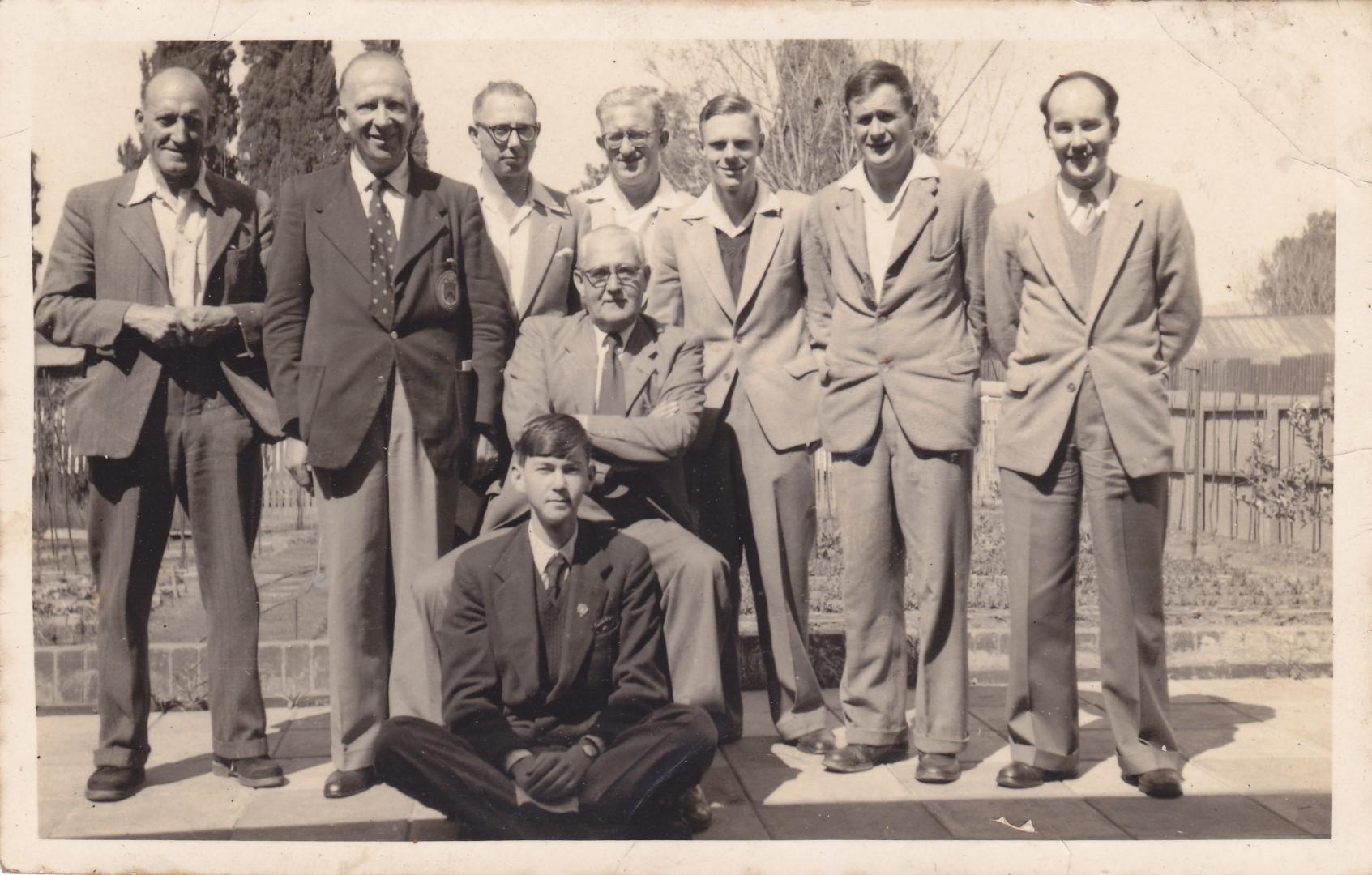 Guy Miller, standing 2nd from right, Ladysmith 1956 (photo courtesy Mrs Churton)
From left: Brookes, Earp, Levy, Van Voorst, Boulle, Miller, Claudius; Front: Wallis, Churton
Guy Miller was a young farmer from Newcastle who burst on to the Durban chess scene in 1956. He won the Reserve section of the Durban championship in 1956, and then won the Durban title in 1957, going undefeated in both events.

Miller only played twice in the Championship section. In 1957 he finished with the very fine score of 10 out of 11, ahead of multiple title winners Mackessack, Kolnik and Blackburn. He came joint 2nd on defending his title in 1958, scoring 6½ out of 10, which was 3 points behind the redoubtable Kolnik!

In June 1959 Miller was invited to the South African championships and was the surprise leader after the first week, on 5½ out of 7. He then lost to Moss Kolnik in round 8 and slumped to 7½ out of 13 in the end. I am told that he was hospitalised for a while, after his mental collapse in this event. Guy took a lengthy break from the game.

Then the South African Chessplayer reported that Miller won the OFS Open held in Sasolburg at the end of 1964 and that he also won the 1965 OFS Open, held in October in Bloemfontein. In July 1966 he took part in the SA Open held in Durban, scoring 6½ points from his 11 games. Shortly thereafter he disappeared and his family imagined the worst.

It turned out that Guy had gone to Europe to play chess and he only returned to South Africa about 4 years later. He suffered from mental illness, staying at Valkenberg hospital and Town Hill hospital for many years. My thanks go to his nephew for helping me tell this sad story.

Games

Game 1 is the first game I could find between Miller and Kolnik, where Miller came within inches of a first round upset at the 1956 Natal Open.

Game 2 vs Kolnik effectively decided the 1957 Durban championships.

Game 3 vs Edgar Hill game won the best game prize at the 1958 Eastern Province Open.

Several more games can be found in South African Chessplayer but these are mostly losses by Miller.

[Event "Natal Open"] [Site "Durban"] [Date "1956.04.02"] [Round "1"] [White "Miller, Guy S"] [Black "Kolnik, Moss"] [Result "1/2-1/2"] [PlyCount "10"] [Setup "1"] [FEN "1r2nr2/4q1k1/p1ppb1p1/2p1p1N1/2P3P1/P2PQPNP/1P2R1K1/1R6 w - - 0 30"] 30. f4 $1 {one of several good moves} Rb3 31. fxe5 $4 {losing his advantage} (31. Nxe6+ Qxe6 32. fxe5 $18) Bxc4 32. exd6 Qxe3 33. Rxe3 Bd5+ 34. Kg1 Nxd6 {and Black drew.} 1/2-1/2 [Event "Championship"] [Site "Durban"] [Date "1957.07.16"] [Round ""] [White "Miller, Guy S"] [Black "Kolnik, Moss"] [Result "1-0"] 1. e4 c5 2. Nc3 Nc6 3. f4 d6 4. Nf3 g6 5. d3 Bg7 6. Be2 Nf6 7. 0-0 0-0 8. Qe1 Nd4 9. Bd1 Ne8 10. Qh4 Nc7 11. Be3 f5 $6 {anti-positional, weakens K-side and impedes his Bc8 (Kirby)} (11... b5) 12. e5 $1 Nxf3+ 13. Bxf3 dxe5 14. fxe5 Bxe5 15. Bxc5 Rf7 16. d4 $2 {his only error (Kirby)} (16. Qf2 Ne6 $1 17. Kh1 Nxc5 18. Qxc5 Bd4 $11 )(16. Rae1 $1 Bf6 17. Qc4 {(Hiarcs)} ) Bf6 17. Qf2 e6 $2 (17... b6) 18. Rad1 Nd5 19. Nxd5 exd5 20. Qe3 b6 21. Bb4 a5 22. Be1 Re7 23. Qb3 $1 Bb7 24. Bg3 Kg7 25. c3 g5 26. Rfe1 Rxe1+ 27. Rxe1 f4 28. Bf2 Qd6 29. Bg4 Bc8 30. Re8 Bd8 31. Qd1 $6 {complicates with Kolnik in zeitnot} (31. Bxc8 Rxc8 32. Re5 {wins pawn} ) Bd7 32. Bxd7 Qxd7 33. Qh5 Ra7 34. h4 $1 gxh4 $6 (34... h6 35. hxg5 Bxg5 36. Re5 $16 {Blieden} ) 35. Re5 Qf7 36. Qf3 $1 Rd7 37. Qg4+ Kh8 38. Rf5 Qg7 39. Qxf4 h6 $2 (39... Kg8 40. Bxh4 Bxh4 41. Qxh4 Kh8 42. Qf4 Rd8 43. Rf7 Qg6 44. Rf8+ $18 ) 40. Rf8+ Kh7 41. Qf5+ {this game was highly praised by Blieden and Kirby} 1-0 [Event "Eastern Cape ch"] [Site "East London"] [Date "1958.07.10"] [Round "6"] [White "Hill, Edgar D"] [Black "Miller, Guy S"] [Result "0-1"] 1. d4 f5 2. c4 e6 3. g3 Nf6 4. Bg2 Be7 5. Nf3 0-0 6. 0-0 d6 7. Nc3 Qe8 8. Qc2 Qh5 9. b3 Nc6 {Miller's favourite line, it gives Black tactical chances} 10. a3 a5 11. Bb2 Bd7 12. d5 $1 {the positional refutation, splitting the centre pawns (Kirby)} Ne5 13. dxe6 Bxe6 14. Nxe5 $2 {the wrong move order} (14. Nb5 $1 Rac8 15. Bxe5 dxe5 16. Nxe5 {wins a pawn}) dxe5 15. Nb5 Rac8 16. Rfd1 (16. Bxe5 $4 Ng4) e4 17. e3 Bc5 18. Rd2 $2 (18.Bd4) Ng4 19. h3 Nxe3 $1 20. Qc3 (20. fxe3 Bxe3+ 21. Kh2 f4 $1 $18 ) Qg5 $1 21. Qe5 Qe7 22. Nd4 Bxd4 23. Bxd4 Nxg2 24. Kxg2 b6 25. Rad1 Rce8 26. Bb2 f4 $1 27. g4 e3 28. fxe3 fxe3 29. Re2 Qf7 30. Qg3 Bc8 31. Rxe3 Bb7+ 32. Kg1 Rd8 $1 33. Ree1 (33. Rde1 $1 Rd7 $1 34. a4 Qg6 35. R3e2 Qc6 36. Kh2 Rdf7 $19 ) Rxd1 34. Rxd1 Qg6 $2 {an oversight} (34... a4 $1 35. bxa4 Qxc4 $19 ) 35. Qxc7 Ba8 36. Bd4 h5 $1 37. Rd3 $2 (37. Qe5 hxg4 38. h4 $11 ) hxg4 38. hxg4 Qh7 {forcing the reply} (38... Be4 $1 39. Qxg7+ Qxg7 40. Bxg7 Kxg7 41. Rd4 Bc2 $17 ) 39. Qxg7+ Qxg7 40. Bxg7 Kxg7 41. Rd6 $2 {too hasty, he wants to get B +wrong RP} (41. g5 $1 Rb8 42. Rd6 Be4 43. Kf2 Bc2 44. b4 {probably draws} ) Rf6 42. Rxf6 $2 {losing} (42. Rd8 Be4 $17 ) Kxf6 43. b4 axb4 44. axb4 Kg5 45. Kf2 Kxg4 {and Black won. Miller received the best game prize.} 0-1
---
Home Page | Natal Champions | Durban Champions

---