Major HARRY TAYLOR DUHAN
(1863 - 1929)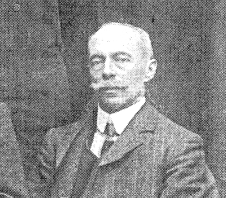 Major Duhan in 1910
Major Harry Taylor Duhan was the 1907/1908 Durban champion. It appears he won the 1907 event and that there was no tournament in 1908. When Lucas Bull stopped his column in "The Natal Advertiser" it was taken over by Major Duhan, who continued it until he was transferred from Durban to Pretoria in the middle of 1910, when the chess column was discontinued. Later in 1910, Major Duhan was the surprise winner of the South African championship, held that year in Cape Town. His score was 11/14 (11 wins, 3 losses), just ½ ahead of Cameron and Siegheim, and he won £40 as first prize.

Major Duhan defended his title in a match against Siegheim in 1911, and was comprehensively defeated by 6½ to 1½ points. He also played in the 1912 South African championship, held in Johannesburg, but could only score 5 points out of 9.

According to Len Reitstein's book "A History of South African Chess" Major Duhan was a professional soldier who came to South Africa towards the end of the Anglo-Boer War. Reitstein incorrectly believed that he was born in Bedford, England, but was unable to discover much about Major Duhan.

Subsequent research by myself in the online archive of The Times indicates that he was born into the Duhan family from the East Indies (now called India and Pakistan), where his father Harry Reilly Duhan was a Civil Servant. The index of British Indian Office births says that Harry Taylor Duhan was born in Mussoorie, Bengal, in 1863. He joined the Army in 1885 as a Lieutenant and served in India until 1891, when he resigned and joined the Colonial Service as an Assistant Police Commissioner at Pera, Straits Settlements. Duhan was wounded in late 1895, and sent to London on sick leave. Whilst in London, he squandered his accumulated salary of £200 and injury gratuity of £300, and then had to appear in court as his liabilities of £408 exceeded his assets of £45!

I was interested to find Duhan living at 68 Clapham Road in Bedford on the 1891 census for Bedford East. His father was the head of the household and the Duhan family was wealthy enough to employ 3 domestic servants. English chess researcher, Mark McCready, wrote to me about Duhan's time in Bedford and it seems that Duhan played board 1 for Bedford chess club between 1896 and 1901. His article on Bedfordshire chess has some interesting content.

The next mention is as Captain Duhan, the prosecutor in the Pretoria Treason Trial of August 1900. It appears that one Hans Cordua had plotted to abduct Lord Roberts, the British Commander-in-Chief. The plot failed, Cordua was court martialled, pleaded guilty and faced the firing squad.

By 1908 Duhan had been promoted to Major, and it is likely he retired in 1913 (Majors usually retired at 45 or 50 in the British Army). However, he returned to the Army once World War One started. His medal index card (number 72487) indicates that he served as a Company Sergeant Major (Warrant Officer) at the Infantry Base Depot of the Cheshire Regiment from early 1915 to the end of 1918, receiving the Victory Medal and the British War Medal for his service.

Both of his brothers also served in the Army. His younger brother Major Francis Taylor Duhan was killed in action at Ypres in 1915 (aged 42). His older brother, William Waugh Taylor Duhan (born 1862), received numerous mentions in the press and in military records. William was a Colonel in the Royal Artillery regiment when he retired in November 1918, having reached the age limit.

After the War, Duhan was mentioned in the pages of The London Gazette. He had again got into financial difficulty, and was placed in receivership between 1921 and 1923. At the time, he was living at 27 High Street, Bloomsbury, in the city of London. His brother William was buried in Bedford cemetery in 1928, and Harry was buried in Bedford in 1929.
Games

This game was played in the 1911 match for the SA championships: (score from SA Chessplayer 1977)

[Event "6th match game"] [Site "Pretoria"] [Date "1911.10.23"] [Round "?"] [White "Duhan,Harry T"] [Black "Siegheim, Bruno E"] [Result "1/2-1/2"] [WhiteElo "?"] [BlackElo "?"] 1.c4 Nf6 2.Nc3 d5 3.e3 c5 4.d4 e6 5.Bd3 Nc6 6.Nf3 Bd6 7.0-0 0-0 8.Nb5 a6 $2 9.Nxd6 Qxd6 10.b3 cxd4 11.exd4 b6 12.Bb2 Bb7 13.Rc1 Rfd8 14.Qe2 Ne7 $2 (14...dxc4 15.bxc4 Qf4 {gets play vs hanging pawns}) 15.c5 $1 bxc5 16.dxc5 Qf4 17.Be5 Qh6 18.Nd4 Rac8 19.f4 Nc6 20.Nxc6 Rxc6 21.Rf3 $1 {wins material} 21...Ne4 22.Bxe4 dxe4 23.Rh3 Qg6 24.Rg3 Qh6 25.Rxg7+ Qxg7 26.Bxg7 Kxg7 27.Qxe4 {hereabouts Duhan relaxes and lets an easily won game slip} 27...Rg8 {Diagram [#] hoping to attack g2} 28.Qe3 ({after} 28.Rd1 $1 {the game was over} 28...Kh6 (28...Rc7 $2 29.Qe5+) (28...Rf8 29.Rd7 $18) 29.Qe3 Rcc8 30.Rd2 $18) 28...Rd8 29.Qe5+ Kf8 30.Rc2 a5 31.a3 Ba6 32.Qh8+ Ke7 33.Qxh7 Rd1+ 34.Kf2 Rf1+ 35.Kg3 e5 36.Qh4+ Ke6 37.fxe5 Kxe5 {an ingenious King march} 38.h3 Bd3 39.Qe7+ Re6 40.Qc7+ Ke4 41.Rb2 {they played at 15 moves per hour, the times here were 98 mins to 113 mins} 41...f5 42.Qb7+ Ke3 43.Qd5 f4+ 44.Kh2 (44.Kh4 {Dreyer}) 44...Re4 45.c6 Rc1 46.Qd6 Rd4 47.Qe7+ Be4 48.c7 Rd3 49.Qd8 $2 {this is much too clever} ({simply} 49.Qh4 $1 {then Qf2+ ends it}) 49...Bf5 50.b4 Rdd1 51.Rb3+ $4 {the Major misses another clincher and finds his King stuck in a mating net, so he has to keep on checking} (51.Qe7+ Kd4 52.Qd6+ Ke3 53.Qe5+ Be4 54.Re2+ $18) 51...Ke4 52.Qe7+ Kd5 {and the printed score ends here, with a note that the draw was agreed on move 78} 1/2-1/2
---
Home Page | Natal Champions | Durban Champions

---