DURBAN CHESS CLUB
NEWS ARCHIVE
News and Results from 2014


Annual General Meeting 20th November 2014

The club's 121st AGM took place on 20th November. Here is the list of prize winners. The club organised a braai after the meeting for all members.


Third Swiss Tournament from 2nd October 2014

This tournament saw some astonishing results, with Jerry Zuma delivering upset wins against Keith Rust, Jason Subke, Bongani Mgaga and Cyril Danisa! However, Jerry spoilt his score by losing to Duncan Podmore and Craig Atkinson. It seems that Jerry's FIDE rating of 1759 is more accurate than his RSA rating of 1429 ... Also joining the party was Craig Atkinson who defeated Jason Subke in the first round. Top seed Joseph Mwale was very lucky to survive round 1, after losing the exchange to Duncan Podmore. He then lost in round 2 to Cailin Chetty, after sacrificing his Queen to avoid a draw by repetition in the opening. In the last round Keith Rust and Cailin Chetty were successful, and so shared first place on 4½ points each, ahead of Joseph Mwale and Jerry Zuma on 4 points. These are the final results.


Article on our 2013 Club champion

The ujuh website recently published an inspiring story about Bongani Mgaga, our 2013 club champion.


World Youth Championships September 2014

This event started on 20th September. I was appointed as an arbiter and have done several reports on my blog for KZN chess news. After a gruelling 11 rounds of competition, the 3rd best performing South African junior was Durban Chess Club's Shivar Gopaulsingh, who scored 4½ points against 10 opponents averaging 1906, and a point vs an unrated player. His rating according to the FIDE website is now 1870!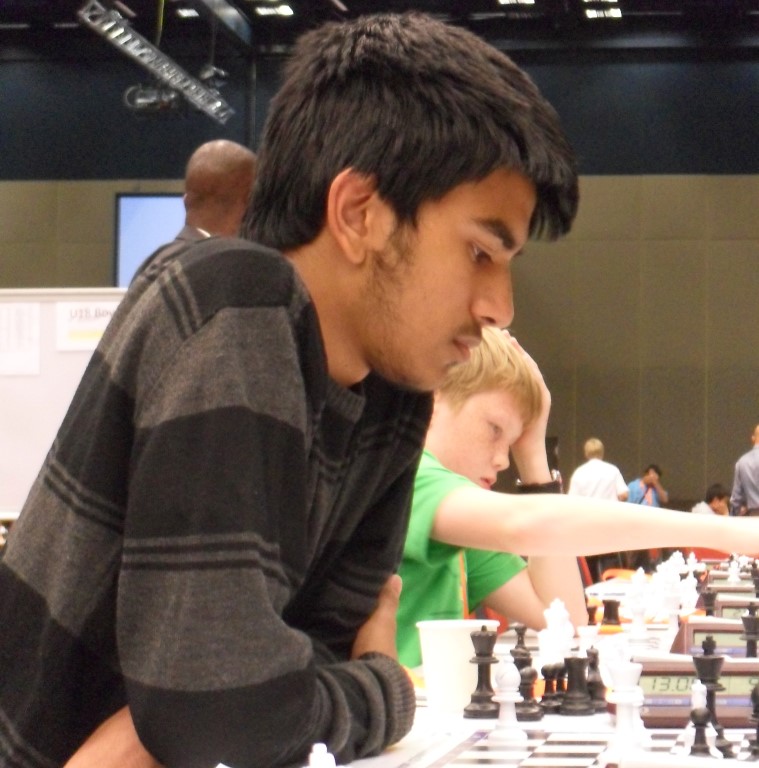 Shivar concentrating on his round 9 game
Mhlongo Memorial Blitz 18th September 2014

Congratulations to Joseph Mwale who defeated Jason Subke in a 3 game playoff after they tied for first place in the Mhlongo memorial blitz. Here are the final results.


John Blackburn Memorial Swiss July/September 2014

Congratulations to Eli-Jordan Govender and Cyril Danisa on tying for first place in the inaugural Blackburn memorial. Here are the final results. Eli-Jordan is only 11 years old and must be the youngest player ever to win one of the club's main swiss tournaments. He almost won the event outright in his round 7 game vs Danisa, but the wily veteran escaped with a draw when 2 pawns down in an opposite-coloured Bishop ending. His key win came in round 6 over Lulama Qobo. Lulama accepted the Marshall gambit and the players rattled off 20 moves of theory before Lulama went astray and had to give up his Queen to avoid mate. It's back to the books for Lulama!


Change to Club Program

The Third Swiss tournament will start on Thursday 2nd October, rather than on 25th September, as a large number of our members are involved with the World Youth Chess Championships.


Mandela 67 Minutes Chess 19th and 20th July 2014

The KZN Chess Association organised this event to celebrate Mandela Day. Sandile Xulu wrote a beautiful report with photos for my new KZN chess blog.


New website for KZN chess news

I have just started a blog for KZN chess news. Reports so far include the eThekwini youth trials, and a look back at the Durban July and its connection to chess!


Rapid tournament 19th June to 10th July 2014

This event started on 19th June, and was won by Jason Subke. It was played at the rate of 2 games per week versus the same opponent, one with each colour. These are final results.


Youth Day Challenge 16th June 2014

This rapid chess event was won by club member Shivar Gopaulsingh with 6½ points from 7 games. Here are the final results.


Club Championships 13th March to 29th May 2014

Keith Rust has won section A for the 24th time, ahead of Jason Subke, with Sayen Naidu and Desmond Rooplal tied for 3rd place. Section B was decided by the last game to be completed. Thabo Moeketsi defeated Rahul Beekrum with the Black pieces and is the winner of section B. In section C, Mayilan Chetty won a crucial postponed game versus his closest rival James Naidoo and was then a little bit lucky to draw with Yadhav Noubouth in his last game. In the end, Mayilan was a stunning 2 points clear of his rivals in section C. Finally, Rajendra Moodley was the top scorer in section D, ahead of Eli-Jordan Govender and Musa Sibeko.


Eric Churton (1939 - 2011)

Somehow the writer missed reporting this event in 2011, for which I apologise. Eric was the president of the club when I joined it forty years ago, and I have prepared a page on Churton's achievements. Eric was an extremely dangerous attacking player, capable of beating anybody in South Africa on his day. I recently spent time with his widow Stephanie and found out that Eric was also an accomplished magician as well as a computer programmer!

GAMES DOWNLOAD: games by Eric Churton (updated, now has 269 games/results).


KZN Open 26th to 28th April 2014

The annual KZN open took place on the long weekend of 26th/28th April at Northlands Senior Primary. After 7 gruelling rounds we had an unprecedented 7-way tie for 1st place in section A. The trophy went to Bhekinkosi Mgobhozi, who had the best tie-break, scoring 2½ points from 4 games against the top players. Here are the detailed results for section A. Section B, for players under 18 and under 1300, was won by visiting player Anderson Nyathi, who scored a blistering 6½ points from 7 games. Here are the detailed results for section B.

GAMES DOWNLOAD: 2014 KZN Open (70 games played on top 10 boards).


Ethekwini Open 21st to 23rd March 2014

Visiting IM Rodwell Makoto won this event with a perfect score. It was instructive to watch the master at work. As he said at the prizegiving, he didn't have any easy games. It was a shame that Durban's Sayen Naidu failed to draw in round 7 and put a dent in the perfect score. This was the position where Sayen started to go astray, in a drawish looking Rook ending. These are the final results. The top placed local player was Bhekinkosi Mgobhozi, who played a very nice combination, to finish off his 6th round game.


Fischer Memorial Rapid 9th March 2014

This event saw a three-way tie for 1st place between Keith Rust, Mbongeni Sithole and Mndeni Njapha, all on 6 points from 7 games. Here are the final results. The following position, showing sacrificial mayhem, is from Mbongeni's 6th round game, versus top seed Joseph Mwale. Count the material, and then see if you can work out White's next move!


Blitz Tournament 6th March 2014

The club's first rated blitz event was held over 9 rounds this week. It was won by Mbongeni Sithole with Keith Rust in 2nd place. Here are the final results.


Moss Kolnik Memorial Swiss January/February 2014

Our first tournament of the year was won by Keith Rust with 7/8 followed by Sayen Naidu and then Cyril Danisa. Here are the final results after round 8.

In 5th place was Jerry Zuma on 5 points, who has shown lots of improvement since last year. Jerry scored a big upset in round 2 when he defeated club champion Bongani Mgaga, with a Nxf7 piece sacrifice smashing the champion's defences. Jerry came close to another upset in the last round vs Cyril Danisa, winning a piece for 2 pawns, but his endgame technique was not good enough.

Another near miss was seen on board 2 in round 2, when Jason Subke played what he thought was a temporary Queen sacrifice against young Cailin Chetty. There was a hole in his calculations, which Cailin also missed!

Round 4 saw a very interesting game between Kavidhen Kander and our club president. Desmond sacrificed a piece early in the game and had young Kavidhen tied in knots. Somehow he escaped and got 2 Rooks and a Knight versus a Queen, winning the game with just seconds to spare! I also had an interesting game against my perennial opponent Cyril Danisa. This time my pawn sacrifice was probably unsound, but Danisa overlooked a beautiful decoy sacrifice.


Glenwood Open 15th February 2014

The 2014 edition of this annual rapid event was won by club member Sayen Naidu, with 6½ points from 7 games.


John Blackburn (1933 - 2014)

I report with sadness that John Blackburn passed away on the evening of 4th February at Entabeni Hospital and his funeral service took place on 10th February at Saint Cyprians Church. John was a member of the club for over 60 years and a 7-times club champion. For almost 3 decades John and his great rivals Moss Kolnik and Gerald Boulle dominated the Durban chess scene, winning the title 25 times between them.


Quiz - What is your Chess Personality?

I recently came across this amusing chess personality quiz. Apparently I'm a Romantic with a playing style similar to GM Vassily Ivanchuk!


Nashlen stars in SA Closed B section January 2014

The SA Closed chess championships have just been completed in Cape Town. Our highest rated player, Nashlen Govindasamy, did the club proud by tying for first place in the B section with 9/11. His game with tournament leader Michael James on Friday night saw both players miss their chances and ended in a draw. His opponent was lucky to survive his next 2 games as well, so took a short draw in the last round, knowing that he was ahead of Nashlen on tiebreak, even if Nashlen won his last round game (which he duly did). For more have a look at the tournament website.


---
Home Page | Natal Champions | Durban Champions | News Archive (2004 to 2019)
---