This was played at two games per week (Black and White vs the same opponent). We started on 20th June and these are the final results after 8 rounds.


Durban Championship sections March to May 2013

The club championships started on 14th March, and we now know all the section winners. Section A kept us guessing until the very end! Bongani Mgaga, who was on fire with 6 out of 7, lost his 8th game to Nashlen Govindasamy, bringing them level on 6 out of 8, with one postponed game each left to play. Jason Subke was already on 6 points from 9 games and Keith Rust overtook him in his last game to reach 6½ points. So we knew that 7 points was the target for first place. In a dramatic last round, Bongani won quickly vs Sivuyile Mgobhozi, then had to wait for the game between Nashlen and Desmond Rooplal to finish.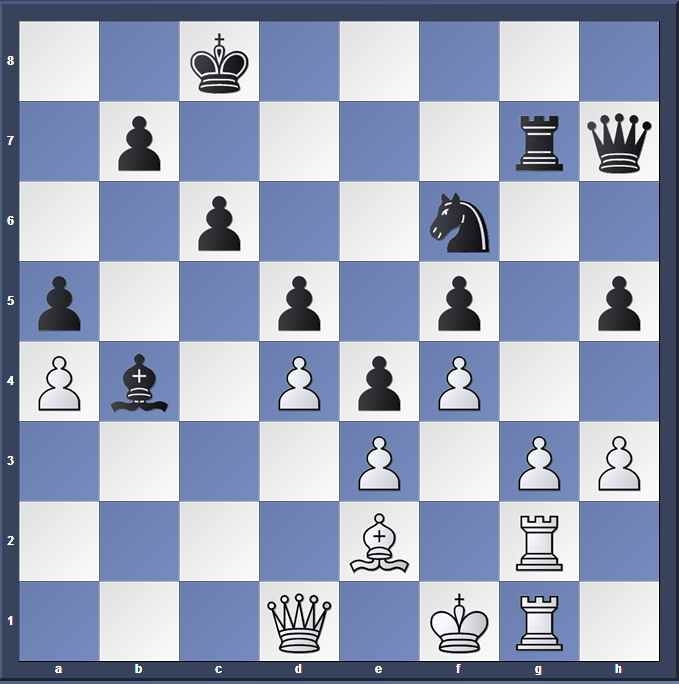 Nashlen Govindasamy vs Desmond Rooplal
This position was reached around 11.15 pm. Earlier Desmond had blundered the exchange for a pawn, and Nashlen has just finished shuffling his pieces to support the g4 pawn break. By now Bongani couldn't bear to watch, but Jason and myself were fascinated. Play continued with: 60.g4 hxg4 61.hxg4 Qh3! (The best move, which involves a piece sacrifice. Taking by 61...fxg4 62.Bxg4+ Nxg4 63.Rxg4 Qh3+ 64.Kf2! favours White) 62.g5! Qxe3! (Wow - now he will be a Rook down! Does he have a perpetual?) 63.gxf6 Qxf4+ 64.Rf2 Rxg1+ 65.Kxg1 Qg3+ 66.Rg2 Qe3+ 67.Kf1 Qf4+ 68.Rf2 Qh6 (I was expecting 68...Qh4! here, as 69.Bh5 is now a possible defence against Qh1+) 69.Kg1 Qg5+ 70. Kh1 Bd6! 71. Rxf5?? (Nashlen grabbed the pawn, based on the Bg4 pin, but this should lose. By now he was down to his last minute, whilst Desmond had a little bit more time. Both sides missed winning chances in what followed next.) 71...Qh4+ 72. Kg2 Qg3+ 73. Kf1 Qh3+ 74. Kg1 e3?? (afterwards Nashlen pointed out the forced mate starting with 74...Bh2+ eg. 75. Kh1 Bg3+ 76. Kg1 Qh2+ 77.Kf1 Qh1# or 75. Kf2 e3+ 76. Ke1 Bg3+ 77. Rf2 Bxf2#) 75. Rh5 Qg3+ 76. Kh1 Qf4 77.Bg4+ Kc7 78. Rh7+ Kb8 79. Qf3 Qxd4 80. f7 Qa1+ 81. Kg2 Qb2+ 82. Qe2 Qf6? 83. Rh3? (83.Qxe3 was spotted by Jason) 83...d4 84. Qf3 Qg7 85. Rh1 d3 86. Rf1?? (overlooking a long move by the Queen, probably 86.Rb1 should win here) 86...Qb2+ 87. Rf2 exf2? (better was 87...Qxf2+ 88.Qxf2 exf2 89.Kxf2 although the opposite Bishop ending looks drawish) 88. f8=Q+ Bxf8 89. Qxf8+ ½-½ This dramatic marathon ended just after midnight!

So congratulations go to Bongani Mgaga for winning the Durban title for a third time. Here is the cross table for section A.

Section B was won by Jonathan Kupis, who won his last two games vs Rahul Beekrum and Alphonse Msomi, to end with 8 out of 10. He was defeated by both of the players who shared 2nd place, namely Paul Curry and Denver White, who finished with 6½ out of 10. Denver had the distinction of defeating both of the leaders (Paul Curry and then Jonathan Kupis) in his last two games. Travis Chetty finished in 4th place on 6 points. The cross table for section B is here.

Section C has ended with Ampie Niehaus a convincing winner on 8½ out of 9, a full 2 points ahead of Nadean Gopaulsingh in 2nd place on 6½ points. The cross table for section C is here.

Section D was won by James Naidoo with a full house 9 out of 9! James had some trouble in his last game vs Rajendra Moodley, which went down to the last minute of play. Going into the event James was unrated, so it will be interesting to see his new Chessa rating. Mondli Ngcongo finished in second place on 7 points. These are the final results for section D.


Kwa-Zulu Natal Open 26th to 28th April 2013

Durban Chess Club celebrates its 120th birthday this year ... so we decided to go BIG and increased this year's prize fund by R8 200, for a total of R23 700.

These are the results after the final 7th round for section A and section B.

LATEST DOWNLOAD: 2013 KZN Open (games played on top 10 boards).


South African Junior Closed 1st to 7th April 2013

A large number of our junior members took part in the SA Junior Closed event held in Benoni. I was particularly impressed by the under 12 boys where Ananta Reddy finished 1st with Cailin Chetty in 2nd place. Well done to them!


Ethekwini Open 22nd to 24th March 2013

The KZN Chess Union had a record 164 entries to this event, although this was reduced by a number of player defaults. The first round saw a few big upsets, the biggest being on table 13 (unlucky for some), where Thirushan Pather scored a 780-point upset! Quite a lot of players ended day 2 on 4 out of 4, including young Marques Hansen, who registered wins over Bongani Mgaga and Henco Marais. The final 3 rounds saw a number of draws, which left several players in the running for the top places. We got the much anticipated battle between visiting stars Daniel Cawdery and Rodwell Makoto in the last round, with Daniel winning this one to secure 1st place. In the last few minutes of play, errors by Durban players Nashlen Govindasamy and Jason Subke let their opponents through to tie with Daniel on 6½ points. These are the final results.


Fischer Memorial rapid 9th March 2013

Robert James Fischer (9 March 1943 -17 January 2008) is considered by many to be the greatest chess player of all time. Durban Chess Club hosted a one day rapid tournament to commemorate Fischer's 70th birthday at Glenwood High School. In a tournament full of upsets, the biggest shock came in the last round, when top seed Erick Takawira blundered a piece against Marius Botha and lost. This led to first prize being shared between Nashlen Govindasamy and Marius Botha, both with 6 out of 7. A large group followed, just half a point behind them. Here are the final results after round 7.


Moss Kolnik Memorial Swiss January/February 2013

The club's first tournament of the year started on 10th January and is now finished. Here are the final results after round 8.


Glenwood Open 23rd February 2013

Thanks to Jonathan Bentham for organising the Glenwood open. After 6 rounds top seed Nashlen Govindasamy was leading by half a point, but he could only draw his last round game, which let Keith Rust, Desmond Rooplal and Travis Chetty catch him on 6 out of 7. Here are the final results after round 7.


---
Home Page | Natal Champions | Durban Champions | News Archive (2004 to 2019)
---