DURBAN CHESS CLUB
NEWS ARCHIVE
News and Results from 2012


Commonwealth Championship November 2012

Three Durban players travelled to Chennai in India for the 2012 Commonwealth championships, held in the last week of November, namely Desmond Rooplal, Nashlen Govindasamy and Ananta Reddy. So that is why our club president missed the AGM and the writer got to wield the gavel! Nashlen was the top scorer of the large group of RSA juniors, with a creditable 6½ from 11 games. Desmond ended with 4½ points and Ananta with 3½ points.


Annual General Meeting 22nd November 2012

The club's 119th AGM took place on 22nd November. Here is the list of prize winners.


Third Swiss October/November 2012

Jason Subke shared first place with Desmond Rooplal, both with 5 out of 6. Here are the final results after round 6.


Durban Chess League August to October 2012

A lively meeting of team captains took place on Saturday 4th August and, after some trading of players, 8 teams entered the Durban Chess League. Play started on Sunday 12th August 2012 at the University of Kwa-Zulu Natal in Durban and we soon settled into our venue at Scully Hall. After 5 rounds, the NUZ Pawn Stars, led by Mbongeni Sithole, had a slender 1 point lead ahead of previous leaders Connected Bishops and Troublemakers. NUZ Pawn Stars faced Troublemakers in round 6 and narrowly won the match by 2½ to 1½ points. This gave Connected Bishops the chance to catch them on points, but they surprisingly went down to Krushers after the previously undefeated Gorodetsky lost his first game, to club player Marius Botha! In round 7 the NUZ Pawn Stars took on Connected Bishops, and defeated their rivals 3-1 to win the league. In joint second place were Petrosian Steel and The 4 Kings, who both won their last round matches 3-1 to overtake Connected Bishops and Troublemakers at the last hurdle! Here are some pictures I took at round 3:


| | | |
| --- | --- | --- |
| | Sivuyile Mgobhozi and Mbongeni Sithole | round 3 - Petrosian Steel vs Troublemakers |

These are the league results after final round and these are the results by board after final round of the league.

Lastly, here are the detailed results for each team in the league:
NUZ Pawn Stars team results
Petrosian Steel team results
The 4 Kings team results
Connected Bishops team results
Troublemakers team results
The Hawks team results
Krushers team results
UKZN Team team results

An imaginative tactical swindle by Siddhanth Singh from the 2nd round match Connected Bishops vs The Hawks: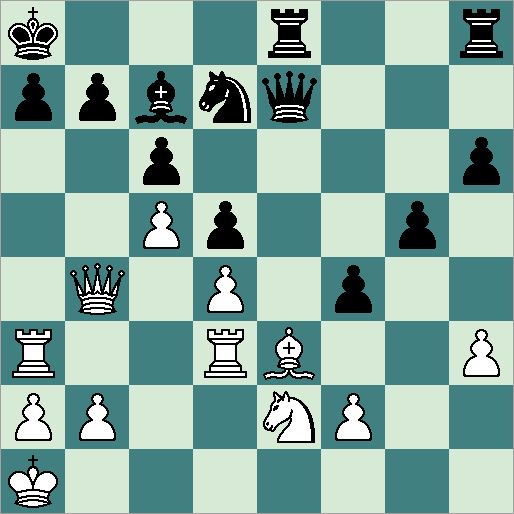 Siddhanth Singh vs Simphiwe Buthelezi
White is losing material thanks to the pin on the e-file, so he went into full attack mode with 1.Rdb3! b5! 2.Nc3! fxe3?? 3.Nxb5! cxb5 4.Qxb5 Nb6 5.cxb6?? e2?? 6.Qxd5+ Kb8 7.bxa7+ 1-0
Black's eagerness to get another Queen cost him the game. On move 2 he could defend with 2...Bb8 but even better is 2...Bb6! so that if 3.Nxb5 cxb5 4.Qxb5 Rc8! (stops Qc6+) 5.Rxa7+ Kxa7 6.cxb6+ Kb7 wins for Black. In the game, the move 3...Bb6 is met by 4.Rxa7+ and wins since 4...Bxa7? 5.Nc7 is mate. Before leaving the game, I should point out that 5.cxb6?? allows the defence 5...Bxb6! 6.Qxb6 Rc8! and Black wins, so correct was 5.Qc6+ Kb8 6.cxb6! and if 6...Bxb6 7.Rxb6+ axb6 8.Ra8 is mate. Entertaining stuff!


KZN Chess Union Spring Series September 2012

The KZNCU Spring Series was contested over 8 rounds from 22nd to 24th September 2012. We had 142 players and the winner was Rodwell Makoto with 7½ points. Here are the final results.


Second Swiss July to September 2012

The Second Swiss finished on 13th September and there were some major upsets! The chief culprit was Travis Chetty, who defeated championship players Subke, Qobo and Rooplal. The battle of the leaders on 5/6 between Mndeni Njapha and Nashlen Govindasamy was won by Nashlen, who secured 1st place with 6/7. Joint 2nd were Keith Rust and Jason Subke, on 5½ points. Here are the final results after round 7.


Club's 119th Birthday August 2012

The club recently celebrated its 119th birthday! Birthday cake and a selection of puzzles from Desmond Rooplal kept members entertained.


Fischer Random tournament June/July 2012

The Fischer Random tournament concluded with position #870 this week, which is QRBKRBNN. Winner of the event was Keith Rust with Jason Subke in 2nd place.


New Club Champion gives Simultaneous 7th June 2012

Jonathan Bentham gave a simultaneous against 9 players at the club on 7th June 2012. He scored 8 wins and 1 loss (to Jerry Zuma). Here are some pictures I took:


| | | |
| --- | --- | --- |
| | Jonathan in deep thought against | some of his opponents (Paul Curry, Hemant Nowbath nearest camera) |
Club Championships March to May 2012

Play commenced on 15th March 2012 and all sections of the championship were completed at the end of May 2012, with the remaining postponed games. The last game to be completed in the A section decided the title of club champion for 2012. See the diagram below: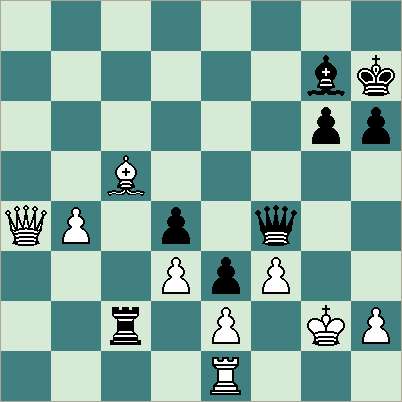 Govindasamy vs Rust (after 41.Qxa4)
Play continued 41...Be5?? 42.Qd7+ Kg8 43.Qe8+ Kh7 44.Qd7+ Kg8 and now to my horror 45.Qh3! guards h2 and gives White a won game. Instead 41...Qh4! 42.Qxc2 Qxe1 (threat Be5) and if 43.Bd6 then 43...Qd2! is winning for Black.

So congratulations go to Nashlen Govindasamy and Jonathan Bentham, joint winners of section A, to Henry Oliver for winning section B, Shivar Gopaulsingh for winning section C, and to Tarendra Moodley and Kavidhen Kander, who were equal first in section D.

Sections A, B and C were round-robins and here are the final tables by section after round 9, for section A, section B, and section C. Section D was played as a Swiss, here are the final results.


Kwa-Zulu Natal Open 27th-29th April 2012

Here are the results after the last round. Our congratulations to Vincent Choko on his winning score of 7/8, which was his 2nd win of the KZN Open title.

As usual a puzzle solving competition was held after the last round. Here are the puzzles and their solutions. The first correct entry for puzzle 2 and puzzle 3 won a chess computer sponsored by House of Chess in Randburg. For more information on their range of chess products, contact Elzanne Fitton 082 924 7990.

DOWNLOAD: 2012 KZN Open (games played on top 12 boards).


Ethekwini Open 23rd-25th March 2012

The Ethekwini Open took place over the weekend of 23rd to 25th March at Addington Primary School, a new venue to me. It was played over 7 rounds, with 60 minutes per player for the game (no increment). I was the chief arbiter, assisted by Marcia Pillay from Richards Bay. After a flood of late entries we ended up with 66 players in the A section (over 1300) and 70 players in the B section, many of them not on the rating list! As a result we started the first round late. One unexpected glitch was the large number of faulty clocks, particularly the brand new analogue clocks, which kept on stopping! They were delivered over-wound and needed running in, which took me most of the Saturday.

The critical game between the two top seeds came in round 6. Erick won a pawn in a Rook ending, but Nashlen defended fiercely, reaching R+P vs R. With 1 second left Nashen played RxP, met by RxR, and his flag fell with Erick having just 1 second left on his clock! So Erick won on time, and then drew his last game to secure the first prize.

Here are the final results of section A, and the final results of section B.


GM Pablo Lafuente visits Durban 17th March 2012

The Argentinian grandmaster Pablo Lafuente was the guest of honour at the uShaka chess tournament held in Durban on Saturday 17th March 2012. Here are some pictures I took:


| | | |
| --- | --- | --- |
| | Pablo on the move against | Kenyon Padayachee, Tarendra Moodley and Kavidhen Kander |
Durban Open 4th March 2012

This rapid tournament took place at St Cyprians church on Sunday 4th March 2012. An enthusiastic field of 52 players braved torrential rain that almost flooded the car park. The winner was Sayen Naidu with a full score of 7/7.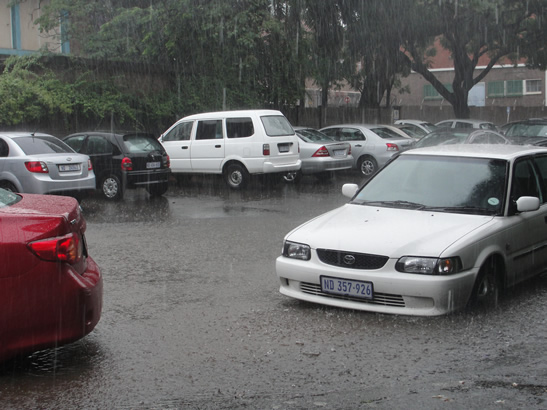 My car starting to float away

Sayen on the attack against Lulama Qobo
Here are the final results. Thanks to Adhir Lalla for the photos, you can find more of his pictures on the KZNCU website.


Moss Kolnik Memorial Swiss 2012

The Moss Kolnik Memorial started on the 12th January. This tournament gave players the option of receiving a half-point bye for one round when they were unable to attend the club evening, if they apologised in advance for being absent for the round. No half-point byes for any of the leaders after the 5th round!

Here are the final results after round 8. Well done to Nashlen Govindasamy on his fine score of 7/8. Keith Rust won a lengthy ending against Desmond Rooplal in the last round, which decided 2nd place. Desmond thus shared 3rd place with Jason Subke.


Glenwood Open 25th February 2012

Thanks to Jonathan Bentham for organising this one-day tournament at Glenwood High School. The winner was Desmond Rooplal with 6½/7, followed by a group of players on 6/7. About 150 players took part.


---
Home Page | Natal Champions | Durban Champions | News Archive (2004 to 2019)
---