DURBAN CHESS CLUB
NEWS ARCHIVE
News and Results from 2010


Annual General Meeting 2010

The club's annual general meeting took place at Stella Sports Club on the corner of Davenport and Bulwer roads at 7.30pm on Thursday 25th November 2010. The meeting was followed by a most enjoyable braai for all our club members, and lots of blitz games and doubles chess until late into the night. Here is the list of prize winners.


La Lucia November Open 2010

The November Open was held over 5 rounds (game in 60) from 26th to 27th November. Keith Rust and Cyril Danisa were joint winners on 4½ points, after drawing their last round game. Here are the final results.


Third Swiss 2010

The Third Swiss was completed at our new playing venue, Saint Cyprian's hall. Keith Rust was the winner with 5½ points, followed by Jason Subke, Bongani Mgaga and Sandile Xulu on 4 points. Here are the final results.


World Youth Championships 2010

Congratulations to our club champion, Nashlen Govindasamy, for his score of 6 out of 11 at the under 14 World Youth championships, held towards the end of October in Greece. This was equivalent to a 2047 rating performance. Top scorers in the South African team were Aleida De Bruyn (girls under 10) with 6½ points, then Nashlen with his score of 6 points in the under 14 open section.


La Lucia October Open 2010

The October Open was held over 6 rounds (game in 90) from 15th to 17th October. Erick Takawira and Bhekinkosi Mgobhozi were joint winners on 5½ points, after drawing their game in the 3rd round. Here are the final results.


South African Open September 2010

This event was held in Pretoria over 9 rounds starting from 27 September. Henry Oliver was the only participant from Durban, scoring 4½ out of 9.



The tournament website at Ramlodi Chess Club has the full results and a selection of photos.


Club Venue is now Saint Cyprian's Hall (30 September)

The Club has found a new home at Saint Cyprian's Church hall in Umbilo Road. Directions to the new venue: From the corner of Umbilo Road and Rick Turner (Francois) Road proceed along the right hand side of Umbilo Road past Hannah Road and past Pioneer Road. Look for the AFM Cleantech sign on the left hand side of the road, and the church hall is in the cul-de-sac on the right of Umbilo Road.


Club Venue - Update (16 September)

The Secretary has made the following announcement to club members:
"I am pleased to announce that we have found an interim venue at Stella Sports Club where DCC can meet every Thursday night until further notice. The premises do not meet all our needs fully .... but are the best we can do in the limited time available. We are still investigating other venue options, but this will take a while to finalise.

In terms of the club calendar, we are due to play the Darrryl Mhlongo memorial blitz tournament tonight. Please join us at about 19h15 tonight in the meeting room next to the Stella Sports Club bar on the upper floor."


Club Venue - Important Announcement (7 September)

The Chairman made the following announcement to club members:
"We have a very unfortunate development to report. Last Thursday we received the first indication, and on Friday confirmation, that the Ethekwini Municipality has terminated the lease of the premises of the Umbilo-Congella Sports Club. Consequently we no longer have the use of their premises for our club evening.

The DCC committee has taken the following steps:
1) We have started the search for a new home for the club. Various organisations and persons have already been approached about possible venues.
2) We have removed the cupboards with our equipment from the Umbilo-Congella Club.

Unsurprisingly, the four days we had since the first indication of problems have not been enough time for the committee members to secure a new club venue for the DCC. We are optimistic that we will be able to find a suitable venue soon, the responses to our requests are encouraging. But also you, the DCC members, can help: If you are aware of a suitable venue, or if you know someone who might be able to assist, please let us know."


Second Swiss July to September 2010

The Second Swiss ended after only 6 rounds, rather than the planned 7 rounds. Since we did not have a venue for our club evening on 9 September, it was decided to cancel the seventh and last round of the Second Swiss Tournament. We hope that this will be the only club evening that we have to cancel.

The first round saw our new club champion upset by Paul Curry, who then went on to also upset the chairman in round 3!! Here are the final results after round 6.


Club Championships 2010

After winning section B last year, top under 14 star Nashlen Govindasamy has become the youngest ever Durban champion! Second place was shared by the top two seeds, namely Keith Rust and Erick Takawira. Section B was won by newcomer Ernest Bhero with Lulama Qobo a mere ½ point behind. So Ernest has won the coveted promotion to next year's Championship section! In section C Rahul Beekrum and Bruce Medway both scored an incredible 8/9. Section D was closely contested and ended in a triple tie between Ray Pietersen, Sandla Mbawu and Thsepo Tshabalala. Here are final results for section A, section B, section C and section D.


Inter-Union Team Tournament August 2010

This took place in Cape Town over the long weekend of 7th to 9th August. KZN has been unable to attend this event in prior years, but we were able to send both an "A" and a "B" team this year. Our thanks go to the KZN Department of Sport for their sponsorship and to team manager Paul Curry for his dedicated efforts in making this possible.

Paul reports that:
In KZN's first ever Inter-Union tournament (which has now been held for the 13th time) we managed to receive seven awards:
1. Fair Play Award - KZN
2. Best Under 20 - Pratish Ramsurrup
3. Board prizes
a) Pratish Ramsurrup - 2nd prize Board 2, A section
b) Nashlen Govindasamy - 2nd prize Board 6, A section
c) Henry Oliver - 2nd prize Board 3, B section
d) Mbongeni Sithole - 2nd prize Board 4, B section
4. B section 5th Place - KZN B team.

Following the outstanding performance achieved by certain players in this event, CHESSA decided to award the following titles to two KZN players:
Erick Takawira - Chessa Master
Pratish Ramsurrup - Union Master

Well done Erick and Pratish!

Members of the "A" team in board order were Erick Takawira, Pratish Ramsurrup, Donovan Neethling, Jason Subke, Andile Choko, Nashlen Govindasamy, Desmond Rooplal and Sivuyile Mgobhozi. For the "B" team we had Lulama Qobo, Sure Mataramvura, Henry Oliver and Mbongeni Sithole. Well done to both teams!


FIDE Trainers Seminar July 2010

Donovan Neethling, Erick Takawira and myself attended the FIDE Trainers seminar held in Johannesburg from the 26th to 29th July, where Donovan qualified as a National Instructor and Erick and myself as FIDE Instructors. These qualifications are recognised world-wide and we expect to receive official certificates from FIDE in due course. FIDE Senior Trainer GM Efstratios Grivas from Greece spoke to us about how FIDE believes chess should be taught and the different levels of trainers that should be involved. We will be passing on some of his training tips to the KZN junior squad!


The GM takes an Eskom power cut in his stride
La Lucia Knights Rapids June 2010

The La Lucia Knights club held a 5 round rapid swiss on Saturday 26th June. The special attraction was a bottle of Johnny Walker Blue label donated by a sponsor. The event was won jointly by Spencer Masango and Ashley Lewis on 4½ points, with Spencer winning the blitz playoff. Here are final results.


La Lucia Knights 60/60 Swiss May 2010

The La Lucia Knights club held a 5 round swiss on 21st/22nd May attracting 32 entries. The event was won by Spencer Masango with a full score. Here are final results.


UNITE KZN Open Tournament April 2010

The annual UNITE Programme KZN Open was held from 24th to 26th April 2010 at Northlands. The prize fund increased by 35% from R10,750 to R14,500 this year, thanks to our new sponsor, the School of Information Systems and Technology! The winner for the second consecutive year was Spencer Masango. Here are final results.


Hamburg vs Durban Schools Match 2010

Desmond Rooplal reports: On 31st March, 10 children that have been learning chess thanks to the help of the Victor Daitz Foundation (and DMCA), played in the Durban teams, against Hamburg teams. This exhibition match was held during the last day of the Hamburg schools chess tournament.

The internet match with the "Durban Sharks" and "Durban Mambas" vs Hamburg, had much public interest in Germany. According to the match organizers in Hamburg, the match was broadcast on every TV station in Germany!

The following photos are of the team in Durban, the team in Hamburg, and the tournament hall (over 2600 children) in Hamburg.

Many thanks to the Chessbase team, the Victor Daitz Foundation, and the UKZN's School of Information Systems and Technology. There are some videos on YouTube: video 1; video 2; video 3; video 4; video 5.


La Lucia Knights Closed 2010

Congratulations to Sayen Naidu on winning the championships of the La Lucia Knights Club. Here are the final results.


Durban Rapid Tournament March 2010
The Durban Chess Club held a one-day rapid tournament at the club's usual venue on Sunday 7th March 2010. These are the final results.

| | | |
| --- | --- | --- |
| | Henry Oliver versus | Cyril Danisa (from round 5) |
There was a nice finish to this game from the last round: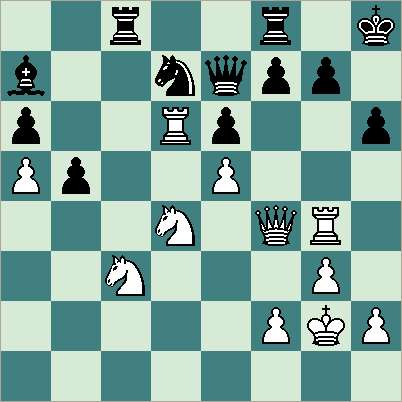 Collins Sithole (to move) vs Cyril Danisa
1.Nf5! (now I was looking at 1...exf5 2.Rxh6+ Kg8 3.Rxg7+ Kxg7 with a messy position, but afterwards Cyril pointed out the pretty mate with 2.Qxh6+! so he was forced to give up a piece) 1...g5 2.Nxe7 gxf4 3.Rxd7 Rxc3 4.Rxa7 f3+ 5.Kh3 and Collins soon won.


Ethekwini Open 2010

The KZN Junior Chess Association held a three-day rated tournament at Northlands from 20th to 22nd March 2010. The event attracted 42 players in the A section and 71 players in the B section (below 1300 rating). Winner of yet another tournament was Erick Takawira, who seems to be enjoying his stay in Durban! In joint 2nd place were Sayen Naidu and Collins Sithole. Here are the results of the A section and of the B section.


Moss Kolnik Memorial 2010

The tournament started on 14th January 2010, and was played over 8 weeks. Erick Takawira was the run-away winner with 7 wins and a draw. The fight for 2nd place resulted in a tie between Andile Choko and Sivuyile Mgobhozi on 6 points, with Keith Rust taking 4th place ½ point behind. These are the final results.

There were a large number of upsets, including this very pretty finish from the first round: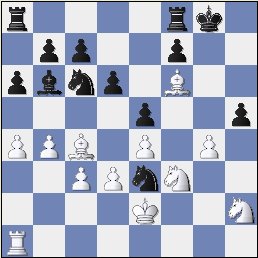 Nivesh Maharaj vs Sure Mataramvura (to move)
Sure took the pawn on g4 with 23...hxg4? and his young opponent offered a Rook to force checkmate with 24.Rh1! and the game ended 24...Ng2 25.Nxg4 Nf4+ 26.Kd1 Ng6 27.Nh6+ Kh7 28.Ng5# 1-0

Obviously 23...Nxg4? 24.Nxg4 hxg4 25.Rh1 exf3+ 26.Kxf3 also ends in checkmate, so does Black have a defence? One possibility is 23...Ng2 24.Rh1 Nf4+ 25.Kd2 a5 26.b5 Nb8 27.gxh5 Nd7 28.Bg5 and White has a strong attack. Trying to block the h-file then escape with 23...Nxc4 24.dxc4 h4 25.Nxh4 Rfc8 26.Nf5 Kf8 fails to 27.Nf3 Ke8 28.c5 dxc5 29.Ng7+ Kd7 30.Rd1+ and wins. The best defence seems to be 23...Nxc4 24.dxc4 Nd8! 25.gxh5 Ne6 and Black stays the exchange ahead.


Umhlatuze Open 2010

The Umhlatuze chess club held a one-day tournament in Richards Bay on Saturday 6th March 2010. Winner of the inaugural event, with the fine score of 7/7, was club member Paul Curry.



Lots of children took part in the tournament
Glenwood Open 2010

Glenwood High School has restarted the Glenwood Open, which ran from 1994 to 2005 before stopping. During that period there were only 4 winners, with club member Cyril Danisa winning 6 times, I won 4 times, the late Darryl Mhlongo won 3 times, and Orlando Santos once (there were 2 tied finishes). None of the previous winners entered this year so the stage was set for a new winner.

The tournament was held at the school on 27th February 2010 and saw a record field of 248 players, mostly unrated junior players. As a result, the organisers ran behind schedule and had to reduce the number of rounds from 7 to 6, when they should have had 8 rounds to produce a winner. The predictable result was that 6 players tied for 1st place with 5½ points from 6 games. Club members Henry Oliver, Jason Subke and Rahul Beekrum were amongst this group, with Henry Oliver the winner on tiebreak. Here are the final results.


---
Home Page | Natal Champions | Durban Champions | News Archive (2004 to 2019)
---