JUNIOR CHESS 2003

There are a large number of junior chess players in the Durban area, although unfortunately not many of them are members of the Durban Chess Club. Our junior members had lots of success at the 2003 South African Junior championships, held recently in Bloemfontein.

SA under 14 Champion

Club member Shihaab Buckas is the new South African under 14 champion! Shihaab scored 8 points from 9 games (7 wins, 2 draws) to finish clear first in his age group. Well done, Shihaab!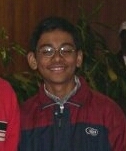 Shihaab Buckas at the 2003 Natal Open
Other Results

In the under 20 age group Ashley Lewis was seeded 17th and also finished 17th with 5½ points. Kaamil Buckas won gold in the team event with 5/5 but could only reach 3½ points in the individual event.

In the under 18's Robbie Vella was 21st with 6 points, whilst Ilhaam Buckas scored 5½ points.

Promising youngster Kurt Kin played in the under 12 event, and finished 18th with his score of 6 out of 9.


---
Home Page | Natal Champions | Durban Champions